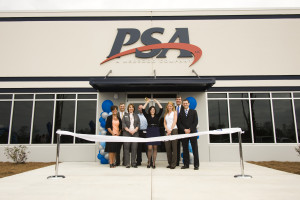 We are excited to announce the completion and grand opening of a 32,000 sq.ft. office build-to-suit project in Florence, SC. Our client MED3000 is a national healthcare management and technology company providing solutions for the healthcare community. The ribbon cutting ceremony took place on March 7th at MED3000′s new offices at 1362 Celebration Boulevard in Florence, South Carolina.
The original project goal was to identify alternative locations for the existing office and we worked extensively to find suitable alternatives. The challenge quickly became identifying any large blocks of office space in and around the Florence market. After 2 years we determined that a build-to-suit was the best route to take and began the bidding process.
KDC Real Estate Development & Investments was selected as the developer and the project came in on-time and on-budget.