Our Core Values
Our Core Values are meaningful to us, our clients and our community.
Transparency
Our team is authentic and genuine, providing complete transparency. We ensure impartial advice and an independent perspective. We are imperfect but always put our clients' interests first. Doing right is not always easy but we always do what's best.
Service
Our team commits to selflessly serving our clients, the business community as well as those marginalized by society. We strive to impact the world we live and work in, in addition to serving the underprivileged and struggling populations in our community and around the world.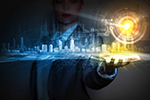 Innovation
In all endeavors, we marshal the resources to identify solutions while passionately delivering excellence. We foster a comfortable and creative work environment, always raising the bar while holding ourselves to the highest standards. Found promises a steadfast pursuit of first class customer service, integrity and performance to our clients and community.
Joyfulness
We deliver excellence while we laugh, play and support each other and our clients. Through work and family commitments we never lose touch of the joy and inspiration life brings. We serve others with a smile.
Positivity
We promote a positive, energizing culture always striving to be the best and never complacent. We have a nonhierarchical team structure with vast multidisciplinary skill-sets. Our energy and mindset create a diverse relationship-centric focus always placing the customer first. We respect and collaborate with each other, achieving more together than we ever could alone. 
Wellness
We must take care of ourselves to take the best care of others. We make health and wellness a priority in and out of the office and are committed to being active in our lifestyle and our community.