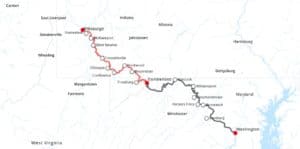 Wellness Core Value
One of our core values at Found Advisors is wellness. We recently purchased desk treadmills for the office. Typically, I average about 15,000 to 20,000 steps a day while I work. Of course that depends on how many meetings I have.
I have had to learn how to type and walk. It may sound easy for some, but not for me. Thankfully, I am getting better day by day. The system, designed by LifeSpan Fitness, has been a great addition to my overall wellness and happiness in the office.
In addition to working out while working, my oldest daughter and I will be riding our bikes from Pittsburgh to Washington DC. Katie and I will be celebrating her 15th birthday the beginning of June by riding The Great Allegheny Passage.
The ride begins in Downtown Pittsburgh and continues through Cumberland, MD. It will start with the 150-mile Great Allegheny Passage. Then it connects with the 184.5-mile C&O Canal Towpath to create a 335-mile non-motorized route between Pittsburgh and Washington, DC. This vacation just might be the best ever with a some preparation and training.
The Trial Trip
Last year, the two of us escaped for a weekend, riding a 30 mile piece of the trail. We met a great group of people along the journey. Later that evening we rode into Confluence, our final destination. After that, we joined up with the group at dinner. They all come together every year for this 335 mile journey.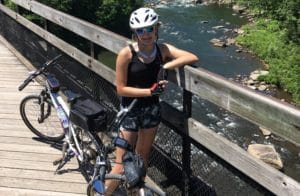 Graciously, they invited us to join them for the next trip. And the entire way back, we talked about how fun the adventure would be. We decided to join Yockatomac Trek 2017.
Our Preparation
So now the fun part of planning and preparation begins. The team at Yockatomac is incredibly organized. Therefore, all of the accommodations, transportation, luggage and safety arrangements are already made. We just have to focus on getting our bikes and bodies set up for the long ride.
Last year Katie rode her Scott. She has since outgrown that bike. I rode a Trek hybrid. We had rear racks installed on both bikes and we were comfortable carrying our overnight gear.
Prepping the Bikes
However, for this trip, I decided to check in with Glenn at Big Bang Bikes. I wanted see if he can convert my Cervelo road bike to a gravel bike. That way, Katie could take the Trek.
It turns out there is just enough room to fit a larger/gravel tire. Glenn just replaced the handlebars, shifters, stem and add suspension under the seat. Similarly, we made adjustments to the Trek hybrid to fit Katie. We should be good to go and are excited to get in the saddle.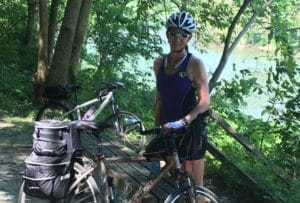 Preparing our Seats
Now we are ready for training. I know that good ole Mother Nature will have a lot to do with the difficulty level of the trip. Riding a bike in the rain is quite a challenge, especially for a long distance.
The hardest part will be the time our butt is on the seat. We will have to cover 40 to 70 miles per day. That is a lot of time on a bike seat! The only way to practice that, is by taking the time to do it.
We have about 60 days to get ready. I have a feeling we will spend a lot of time on the Butler – Freeport Trail, North Park, and the Montour Trail this spring. We may even go to spin classes at Psycle! Every little bit helps.
Finally, a good fitness routine, focused on the muscle groups that will be most impacted by the journey will make a big difference as well. I am hoping Bryan Stefanic at Elite Sports & Fitness in Mars can help with that.
Katie and I are super excited. We plan to post lots of pictures as we train and ride for wellness along the Great Allegheny Passage.