The Autonomous Vehicle Impact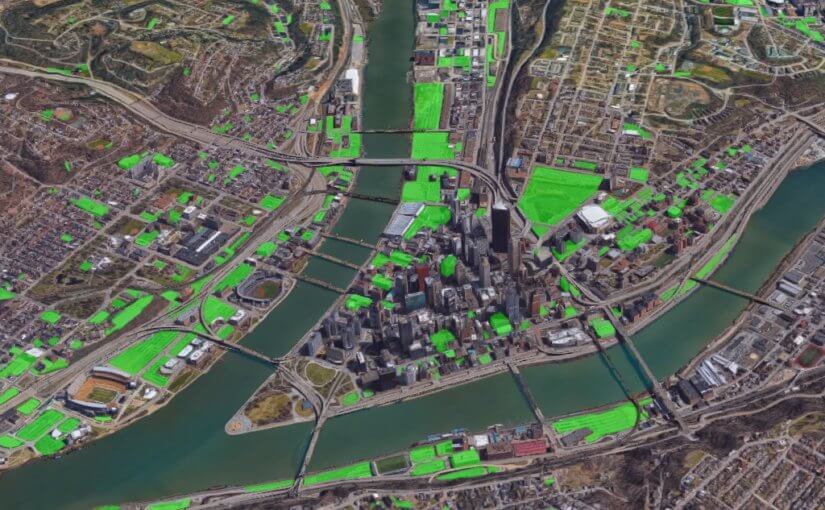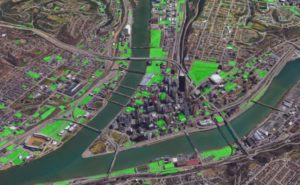 (This map of Pittsburgh's dedicated parking areas shows how much additional space could be gained if the need for these spaces goes away. As a result of the impact of autonomous cars, green space in the city would increase significantly.)
The impact of Autonomous Cars will have a tremendous effect on real estate. Everyone knows the saying, "Location, location, location," and it will remain true. Going forward, landlords can offer more amenities such as gardens, sports fields, tennis courts, and putting greens to tenants. Instead of meeting the minimum code parking requirement, they will be able to develop jogging trails and parks.
Indoor parking garages will be converted to retail, gyms and additional office space. In addition, urban areas filled with open-aired parking garages will become green spaces, farmers markets, and arts festivals. Buildings will design covered valet areas for tenants and visitors to comfortably approach their ride. Traffic congestion will be drastically reduced. Therefore, municipalities will have more room to add bike lanes.
Now, what about that huge side-entry garage you had to have in your new home? Your garage becomes the perfect man or woman cave with nice tall ceilings. Or it could be changed to a gymnastic center for your child. Maybe you can convert it to the indoor/outdoor bar area you always wanted with glass roll-up doors. The driveway? Who needs a driveway anymore? That becomes the yard you've always wanted.
The Story
My 75-year-old mother pushes the button on her phone, which in bold letters says, DOCTOR. Within two minutes a sleek electric autonomous vehicle, she named Polly, pulls up to her front porch. When she approaches, the proximity sensor recognizes her, and the door gently opens.
"Hello Nona," the pleasant female voice of Polly says through the surround sound speakers. "Nona, we are headed to the doctor. Would you like to watch the news, like you did Saturday?" Polly asks. "No, I want to watch my grand-daughter's new YouTube video!"
My mother screams  each response, thinking the car won't be able to hear her. The YouTube video shows up on the large flat screen that is the dashboard. Next, the car door closes. Shortly, a cup of hot Rooibos tea appears beside her. Mom sips tea and watches the video, as the driver-less car takes her to her appointment.
When she arrives at the doctor's office, the car pulls up to the curb. Polly says, "Nona, hit the button when you are ready to leave, and I will be there in two minutes." After that, Nona gets out of the car and visits her doctor.
Following her doctor's visit, on this sunny day, my mother enjoys sitting in the botanic garden just outside the door. This space used to be a parking lot. Ponds with water lilies and lotuses, perennials and park benches fill the gardens. Next, when she's ready, mom taps the button on her phone. Polly will take her to her next destination. And the car arrives within two minutes.
I hope my mom is around to meet Polly and see the future impact of autonomous cars.