An ecosystem is defined as a biological community of interacting organisms and their physical environment. Co-Working locations also have a complex set of relationships among their resources, habitats, and residents.
Co-Working spaces are not just in California. Yes, they are in Pittsburgh too. Alloy 26 recently opened at the old Allegheny Center Mall location now called Nova Place and is a great location for innovation and technology in the Pittsburgh region. We have worked with many differently sized companies from start-ups to Fortune 100 companies and we see these types of facilities as great opportunities for many of our clients, providing these 3 main benefits:
FLEXIBILITY – Many co-working facilities offer short term and drop-in options to provide start-ups and growing companies flexible options. You can sign up for a flex desk, dedicated desk, private office or even a corporate cubby for your small company. Most spaces offer phone booths for privacy and meeting facilities with video conferencing. Some co-working locations offer a national platform where you get on-demand access to beautiful spaces globally.
ECOSYSTEM – Co-Working environments provide an endless supply of networking opportunities with founders, freelancers, and entrepreneurs from all over the world. They can be more of an ecosystem than a workplace. You have the ability to meet people to partner with. You have opportunities to enhance your brand, build your product and market your services. WeWork boasts that you have the ability to connect with over 40,000 + other creators and receive invitations to exclusive members only events. Parisoma in San Francisco even offers educational and community classes.
COOL FACTOR – Yes, they are trendy and typically provide organic coffee and tea, purified water, large fully functioning kitchens, gaming such as ping and pool tables and many different lounging areas throughout the space. Impact Hub in Madrid is split into three lofty, self-contained spaces that accommodate lectures, workshops, training programs, meetings and large-scale events. TalentGarden in Milan offers beanbags, foosball,

a 

café, an

aperitif

area, a garden

and

an

outdoor rooftop pool.
Co-working locations are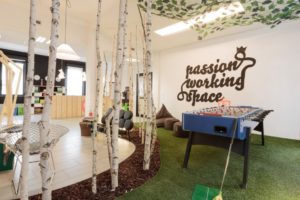 a great way to build collaboration and be part of your own ecosystem. For more information on locations that can work for you, please reach out to any of our advisors at 412.336.3333 or team@foundadvisors.com.